Finally, Spring has arrived!
---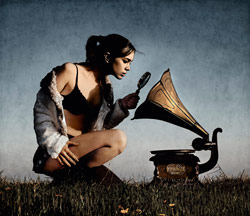 Hey you all!
The band is getting ready for several open air festivals. We're all hoping Lenny's dislike to play outdoors, due to his pollen allergy, will prove to be unnecessary. The next show is set for May 10th in Bulgaria, followed by the june festival tour in Russia with the Scorpions, Alice Cooper and The Rasmus.

Lenny is happy not to sit in the studio for a while, instead he is telling me about the flowers growing in Hamburg. Think he is getting old (or wiser?) ;-)

For all you people who may have missed it. The new cd "Magnified" is out now. The duet with Jessica for the song "24 Hours" is only available on digital download platforms like iTunes, Musicload, etc...

Want to order the new cd? Click here .
Let Spring rock your hearts, Marko